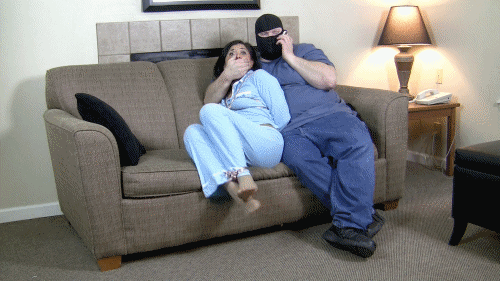 Tomiko wakes up in her pajamas and notices that she all tied up with speaker wire and a pantyhose gag with a pair of her own panties inside the stocking. She keeps screaming for her husband to no avail. she soon discovers that her hostage taker has arrived to call her husband with the ransom demand give him 50,000 or he never see Tomiko again. He pulls her gag out and hand gags her and then has her plead into the phone to give him what they want. After he is done he re gags her and lets her struggle while he prepares where her husband will need to drop off the money. By this time she sees that there is some scissors laying on the chair and that if she tries to crawl over to them maybe she can free herself. But our Man her and carries her off to prepare her for bed. We then return to the next morning and find her asleep in bed and she is awoken by him and he needs to prepare to get ready to the drop off but wants to make her feel more comfortable while he is gone. You have to find out what in store for her after that in part 2This was a custom video and our client wanted it to seem Real!!! Tomiko pleads and cries for real and it feel like a real hostage situation.
Tomiko has just been awoke by her captor it is morning. she been asleep all tied up in speaker wire and it about time to pick up the ransom money. But our captor does not want Tomiko to be in her pajamas all day so he pick out a nice blouse and pantyhose and heels to wear nothing else watch Tomiko slowly strip down to a pair on pantyhose she was wearing and put on her blouse and heels and tied to the bed with the speaker wire. Watch her try to struggle on the bed as the wire gets tighter and tighter to where she can barely move. What else does her captor have for her and does her husband pay the ransom?
After another long day and the ransom is paid our captor want to prepare Tomiko for her husband. But he want to enjoy every minute of it. She is to force to strip naked and put on a new pair of pantyhose no panties. A blouse and skirt and he then forced her to regag herself and then sit down in a chair and then she didn't expect to have a ton of zip ties used on her he kept making them tighter and tighter and even put some around her head to keep her gag in place and to add insult to injury he pulls her top down to expose to breasts and adds more zip ties. He then tells her that her husband will be here in about a day and you have a long time to struggle then finally leaving her she finally cries for help and waits for her man until he finally arrives and you will see the rescue in the first person pov.